Long Beach has long been the best-kept secret in Southern California. People are drawn to Southern California for the laid-back vibes and near-perfect weather, and Long Beach does not disappoint. It has a robust nightlife, food scene, and shopping opportunities. Long Beach has an excellent school system, making it attractive for young families. There are plenty of things to do in Long Beach to keep you busy and entertained with its 64 unique neighborhoods. From sprawling urban areas to beach homes in Long Beach, Ginette Skelton is the premier Long Beach real estate agent who you want on your team to help you buy or sell your house. She has been a resident of this coastal city for over 20 years, and her expert knowledge and experience will help you sell a home or buy your dream house.
Long Beach real estate trends to watch out for
Market trends
If you are looking for real estate in Long Beach, the area is experiencing a strong seller's market. The median listing home price trends up year over year, so if you're buying a home in Long Beach, you may end up paying more than the asking price. In Long Beach especially,
inventory is low
, and investors and cash-buyers are dominating the market.

Many homes in Long Beach are selling fast; if you're buying, plan to act quickly because the average listing was on the market for 14 days. When a market is this hot, it pays to have an agent like Ginette on your side who is an expert in the area and knows how to act fast and negotiate on your behalf.
In-demand areas
Naples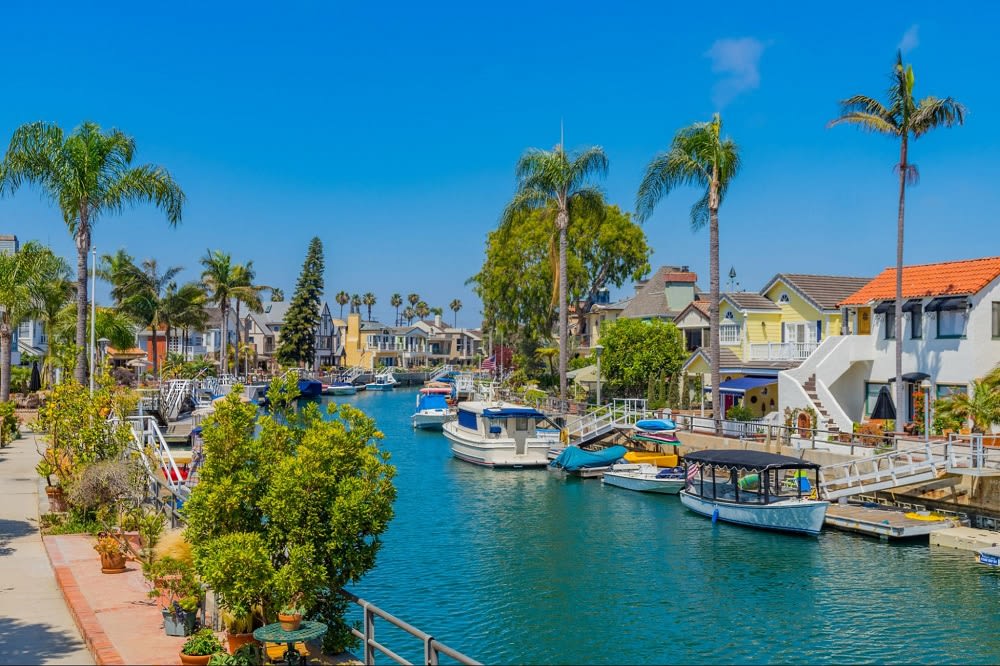 Naples has earned a reputation for luxurious living. This Italian-inspired Long Beach community is a great place to live, surrounded by boats and waterways and excellent shopping and restaurants like
Michaels on Naples
on 2nd Street.
This charming neighborhood includes everything from modest beach cottages to lavish waterfront mansions. You will also find single-family homes, apartments, and townhomes great for young families. Many of these are situated right along the canals and offer beautiful views of the waterways, with some including boat dock access. You can get the whole experience by taking a romantic
Gondola ride
through the meandering canals.

Naples is a competitive seller's market due to interest in this charming community with great views and amenities.
Belmont Heights
Belmont Heights is a highly desirable neighborhood in Long Beach. It's located on the coast and offers quiet residential living but is close to the action. There are plenty of restaurants, bars, and cafes — for instance, check out
Manaow Thai
for delicious Thai food and an unforgettable dining experience. Here you will find single-family homes, condos, and apartments within walking distance of the coast. Belmont Heights is a competitive housing market.
Park Estates
Park Estates is a neighborhood in Long Beach, California. Living in Park Estates offers residents an urban feel. In Park Estates, there are a lot of bars, restaurants, coffee shops, and parks. Many young professionals live in Park Estates, and young families are drawn to the area as the public schools are highly rated.
Open houses are in full effect in this hot market
Real estate agents have been busy in this market, and homes are going fast. Working with an experienced realtor who is privy to all of the open houses of homes that meet your criteria is one way to stay ahead of the curve.
Get started today in Long Beach real estate
California has been one of the hottest markets in the U.S., breaking all-time records. The California housing market continues to perform well as buyers enter the market in anticipation of rising mortgage rates. In this competitive market, you need an expert on your side. If you are interested in exploring Long Beach, CA, real estate, contact Ginette Skelton today. As one of the leading real estate agents in the area, Ginette serves a wide range of neighborhoods. Whether you are looking for Long Beach luxury homes, a condo, or a starter home, Ginette can help you find a property that's perfect for you.

*Header photo courtesy of Visit California